On the outskirts of Addis Ababa, Ethiopia's capital, children play, corn grows and a half-dozen women gather to knit inside a small, cement building. They are crafting 500 EILEEN FISHER scarves, plying skills they learned while recuperating from surgery at the Addis Ababa Fistula Hospital, a short drive away.
The knitters are survivors of obstetric fistula, a physically and emotionally debilitating injury caused by long, obstructed labor. In countries like the United States where women have access to pre-natal care, fistula is rare. In Ethiopia, injured women are shunned by their communities and must travel long miles, often on foot, to seek specialized treatment.
After reconstructive surgery, many women remain in the Addis Ababa area, nurtured by connections to the hospital and to Desta Mender, a 60-acre farm village that teaches fistula survivors the skills they need for economic independence—dairying, poultry keeping, gardening, baking, sewing and knitting.
We were introduced to the Addis Ababa knitting co-op through Sammy Abdella of Sammy Handmade in Ethiopia, whose bags and handwoven scarves are often part of our line. Sammy hoped we'd be inspired by the knitters' stories. He was right.
From the first moment the EILEEN FISHER team walked in the workshop, lit by a single fluorescent bulb, we wanted to help grow their business. But help required careful thought. We needed to find a design that was straightforward enough for new knitters. We needed to order a reasonable quantity and allow enough time for the work to be completed slowly and steadily.
"When we partner with artisan communities, we try to be very conscious that we are committing to something that is handmade and one of a kind," says Susan Young, our VP of Global Sourcing. "The product simply can't be rushed."
We hope to work with the Addis Ababa knitters to create more accessories in coming seasons, but a steady flow of work is difficult to guarantee. "Fashion is an unpredictable business," says Susan. "But there are other ways we can help. I asked what EILEEN FISHER could do to support their work as entrepreneurs. The knitters told me that one obstacle to growing their knitting and sewing business was the limited and erratic availability of electricity."
In short order she received approval to purchase a battery-operated generator. Sammy's electricians installed it, donating their time.
Working with the knitters is a true labor of love. Designer Carol Montoya, who designed our Spring 15 scarf, was part of the team that journeyed to Addis Ababa in 2013. "For me personally, it means a lot to help fistula survivors on their journey to confidence and dignity," says Carol. "For the company, it's a project that resonates deeply with our mission to empower women."
The Addis Ababa Fistula Hospital
The Addis Ababa Fistula Hospital was founded by Australian doctors Reginald and Catherine Hamlin, who came to Ethiopia in 1959. Dr. Reginald Hamlin performed surgical fistula repairs until his death in 1993. Dr. Catherine Hamlin still sees patients. She was nominated for a Nobel Peace Prize in 2014. The hospital has been a recipient of EILEEN FISHER human rights donations.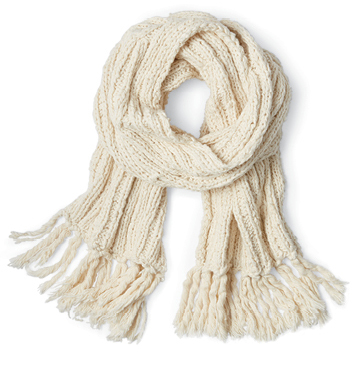 \